Shandong Kenside Machinery Manufacturing Co., Ltd.
Spiral belt is a widely used conveyor belting for a variety of spiral applications. It is a most common conveyor belt in food processing industry. Normally made of food grade stainless steel 304 or 316, it consists of three parts - side U shape links, crossing rods and mesh overlay (optional).
There's lots of pitches available, commons are 19.05(3/4''), 25.4(1''), 27.43(1.08''), 30.5(1.2''), 38.1mm(1.5''). Mesh overlays material from spring stainless steel, and specifications can be customized according to the size of product which is on belting, and height of side plates can be made as per customer's requirements. Round rod end often by hot upset process, welds to links strongly. Electrolysis polishing and thoroughly water washing ensure whole belting to be hygiene and shiny. It is perfect and suitable for refurbishing the existing spiral freezer, spiral cooler, spiral proofer, spiral cooker and other spiral applications
Technical Specifications:
Material - food grade stainless steel 304 or 316
Belt Width - 152 - 1600mm, common in 600 / 700 / 800 / 1000mm
Rod Diameter - 5, 6, 7mm
Rod Pitch - 19.05(3/4''), 25.4(1''), 27.43(1.08''), 30, 30.5(1.2''), 38.1mm(1.5'')
Wire Diameter - 1.2, 1.4, 1.5, 1.6, 1.7, 1.8mm
Spiral Pitch - 3 - 25.4mm or customized
Mesh Overlay - balanced weave / unilateral weave / without (rods only)
Side Guard - Without / 12.7mm, 19.1mm, 25.4mm, 38.1mm, 50.8mm above mesh or customized
Turn Ratio - 1.1 - 2.5, by turn radius/belt width. Ratio can be as low as 1.1 by adding one row link
Multiple Options & Choices:
(1) Low tension with flat button head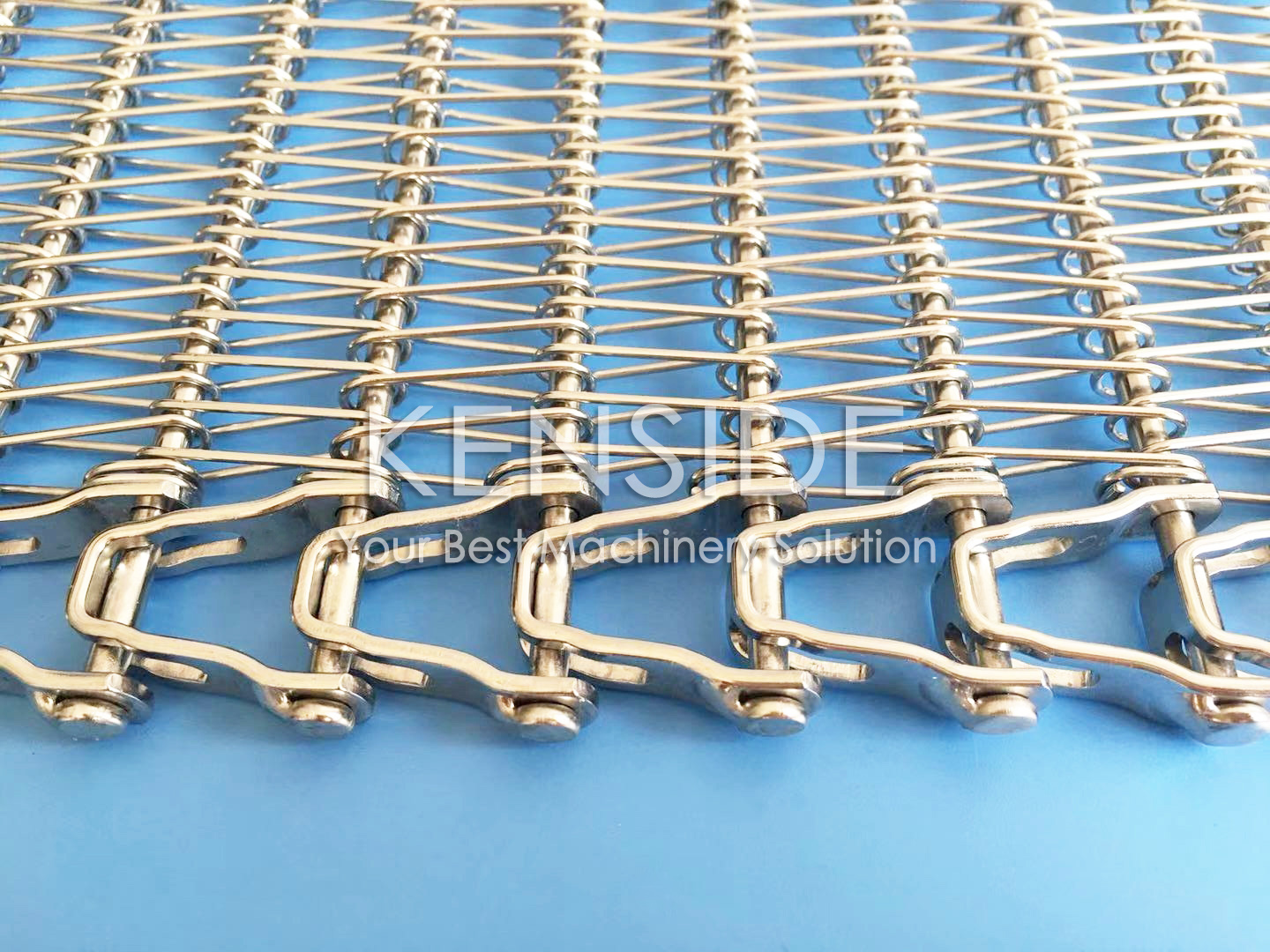 (2) Low tension with rounded button head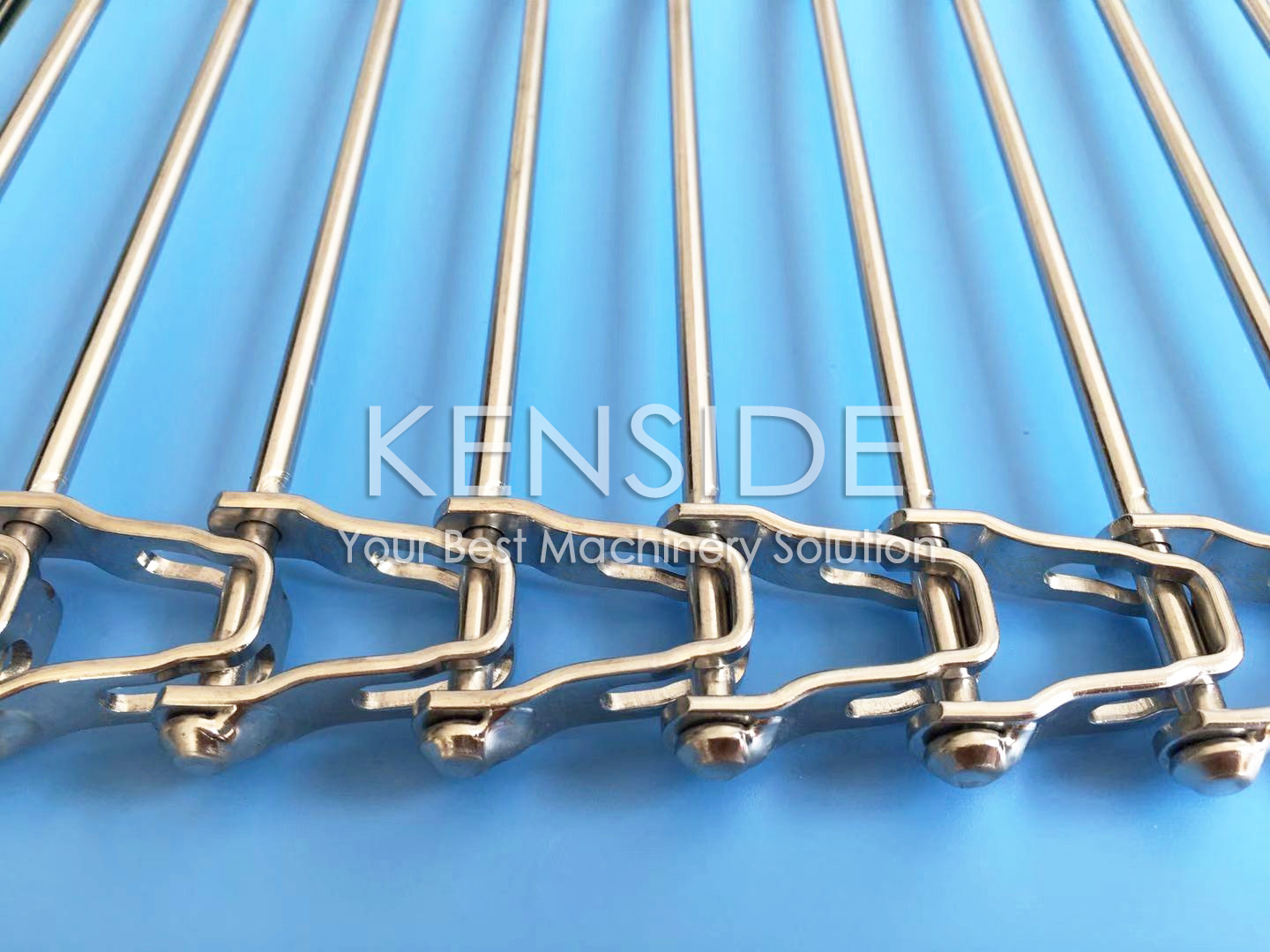 (3) Low tension with buttonless welds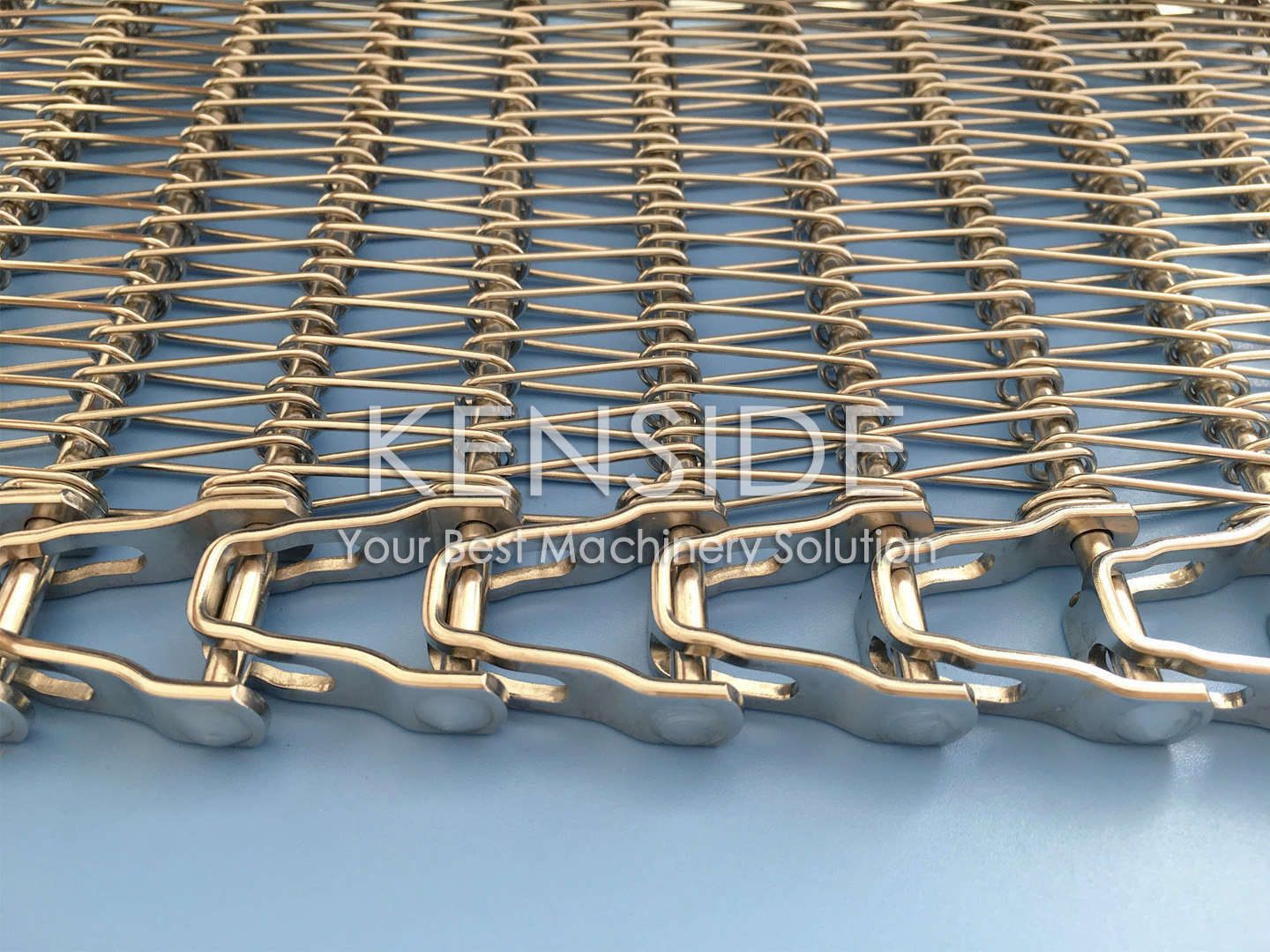 Applications:
Baking, Cooling, Freezing, Proofing, Cooking, Icing, etc.
Our Advantages:
1. Specifications conform to the international standards.
2. Available in both rods only and mesh overlay structure
3. Electrolysis polishing and thoroughly water washing
4. Customization - customer's brand logo can be printed on side links
5. Strong packing, competitive price and fast shipping delivery
Special specifications can be customized, please contact us -
Email: info@kensidemachinery.com Office Phone: +86 532 80920436
Corresponding parameter set not found, please add it in property template of background
暂未实现,敬请期待
All Copyright © 2019 Shandong Kenside Machinery Manufacturing Co., Ltd. 鲁ICP备19057177号-1
Office: 873, Chongqingzhong Road, Licang District, Qingdao, Shandong Province, China.
Factory: Daqi Industrial Park, Ningjin County, Dezhou City, Shandong Province, China
Tel: +86 - 532 - 80920436 Fax: +86 - 532 - 80920436
Email: info@kensidemachinery.com
Website: https://www.kensidemachinery.com